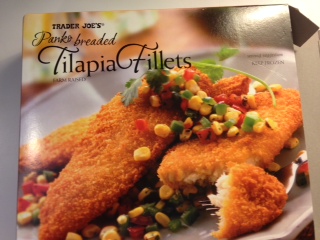 We love Fish & Chips- flaky fish- with a crunchy coating and potato wedges or chips- sprinkled with lots of salt and Malt Vinegar. This not-so-heart-healthy combo is our favorite during sporting events-  but especially when watching the World Cup-as we did over the weekend.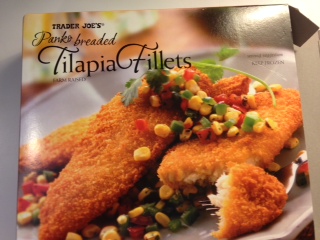 When we were shopping at Trader Joe's for our Fish & Chips dinner we decided to check out a new kind of fish- and it was just delish!
Trader Joe's Panko Breaded Tilapia Fillets
This box just sorta jumped out at us while we were checking out all the other options. I think I was lured by the idea of the crunch Panko breading and the thinner pieces of fish.
An added advantage was that the fish was individually bagged so that you could take out only the amount you needed for a meal, and keep the rest of the fish in the freezer for next time.  Nice!
We followed the suggestions on the box and placed the fish on a foil lined pan and cooked it for 10 minutes, then flipped it over for 10 more minutes on the other side. The fish was nice and crispy and golden brown- and it sizzled when we took it  out of the oven.  (We did take a piece of paper towel to each side of the fish just to see if we could get any extra oil from each piece- and there was a little bit to blot up- just FYI.)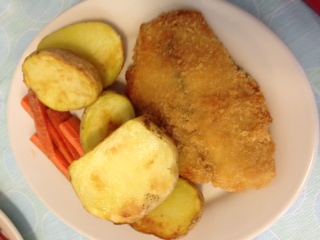 To TRY and keep this meal under some kind of control, we served it up with home made oven roasted potatoes to star as the "chips"  and a few carrot sticks.
Well…..
OK we just loved the fish. It was crunch yet still moist in the middle. The Panko breading was crisp without being super thick/ or way greasy. We sprinkled the fish with some Malt Vinegar- and it just went so well together… YUMMO!
Other Ideas to try with this fish:
Fish Tacos
This would be a great fish to use in Fish Tacos. The pieces cook up crunchy and the fish is nice and thin but still moist. My though is to cook the fish and split it in half the long way, then place each half in a tortilla or taco shell with your favorite fixings.
Salad Topper
Another idea we had was to bake the fish and then serve it on top of a nice bunch of salad greens, tomatoes, etc…   This would be a lovely contrast in flavors (cool- hot- crunchy- creamy dressing etc…)
 So the next time you are searching for a nice, crunchy fish for dinner, give Trader Joe's Panko Breaded Tilapia Fillets a try and tell us what you think!