Have you tried Trader Joe's Masala Dosa Authentic Indian appetizers?
We love the spicy flavor of Indian food, and when we saw these taco like snacks, we bought a box right away!
The wraps are made of rice a rice crepe – and rice make a great wrapper for the filling of  spicy potatoes and onions.  The filling was fantastic! It had just enough spice so you know you are eating Indian food, but not too much that you cannot taste anything, at least that is what we thought.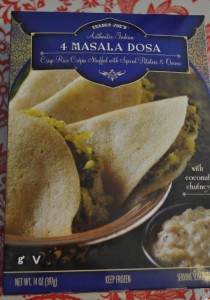 The Masala Dosa come with a package of coconut curry, which was wonderful and a little sweet from the coconut and cooling from all the spices in the potato and onion filling.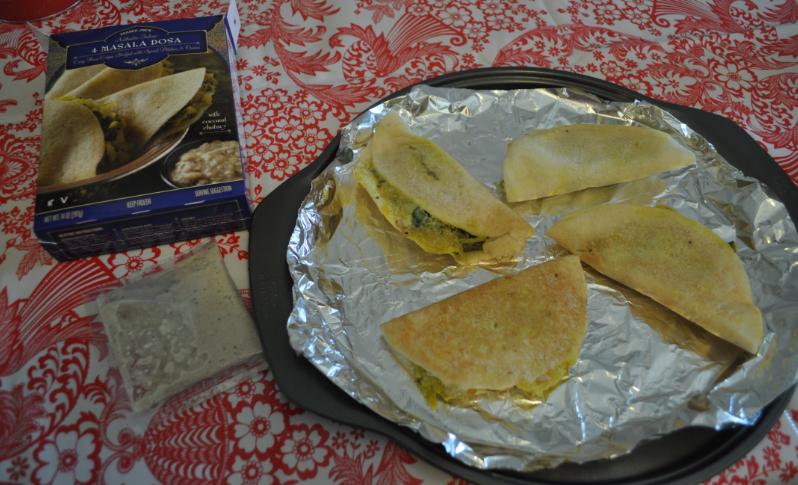 They were super easy to cook, all you needed to do was heat on a pan lined with foil (check the package for time and temperature) and then heat up the coconut curry sauce in a little boiling water to thaw it. (We like to use a mug with some hot water,  drop the pouch in, and then allow to heat up while the masala dosa are heating in the oven).
As you can see from the picture, our Masala Dosa got a bit toasty in the oven and this gave the rice crepes a nice crunchy texture to contrast the smooth center.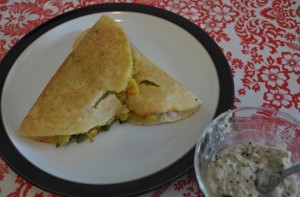 As a note:
As we ate these yummy Masala Dosa (with a salad for a nice lunch) we thought that the coconut curry sauce served COLD would have made a nice addition to the warm Indian tacos and will thaw the coconut curry sauce briefly and then chill in the refrigerator until ready to serve.
A second note, would be to lightly oil the tin foil as our rice crepes stuck in a few places. gggrrrr
Have you tried Trader Joe's Masala Dosa ? What did you think? Share your thoughts below or on Facebook! ~THANKS!