Salute Everyone;
Due to popular demand, I have decided to review all of Trader Joe's varieties of Charles Shaw wines. It also helped that a friend, & a Living Trader Joe's reader, bought me two,  2 Buck Chuck reds as a housewarming gift.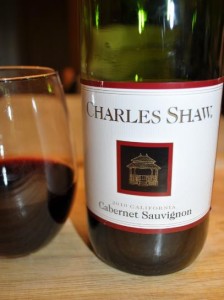 Even though it is still warm outside – the TV show Castle is on and although there is no logical explanation I crave reds when it is a Castle night.
So enough banter… let's get to it.
Charles Shaw's Cabernet Sauvignon 2010 is great Cabernet especially for $2.99. The 2 Buck Chuck Cabernet Sauvignon offers a rich berry (heavy on the blackberry) flavor. The wine starts off smooth and ends smooth; which would make it a great choice with almost anything and a wonderful choice for a party. I did give it plenty of breathing time so you might want to do the same.
I enjoyed this wine with balsamic pork, sauté zucchini, and a baked potato. It was such a great hit that I poured another (small) glass to sip during the show.
*A dessert note: A container of Trader Joe's Dark Chocolate Almonds with Sea Salt & Turbinado sugar was opened during the show and I can tell you this was also a perfect pairing.
Now to find the willpower not to pour another small glass…
Cheers,
Delaina