Hello Everyone;
As you all know I love a good red.
Merlot is considered one of the standards when it comes to red wine. But to be honest I was becoming a little burned out on Merlots. As a result I have not been buying them. But as I said a reader and friend bought me two red and this was one of them and boy I'm glad she did.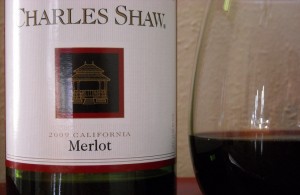 The 2 Buck Chuck Merlot 2009 is a reminder of all of the reasons Merlots are a staple in red wine world.   Charles Shaw's Merlot does not try to be anything other than a Merlot.
From the moment I opened this bottle and took my first sip I was reminded of all of the reasons that I use to love Merlots. This Merlot's complexity is subtle yet consistent, the berry and cherry flavors are a perfect marriage, and I found it hard to resist once it was open.
No it is true, just look closely at my picture…yes that is right! I barely managed to get a picture before the bottle was completely empty. (Don't worry I did not drink it all in the same day).
This wine paired nicely with rice and sautéed vegetables. Yet this wine would complement any meat dish and would be awesome with salmon.
Cheers,

Are you a Merlot drinker? What is your favorite food to pair with Merlot?