A Wine Moment with Delaina
Hello Trader Joe's  & Living Trader Joe's fans;
We have a fantastic wine to share with you.
Dearly Beloved, Forever Red 2009 from Mendocino County, California is just the treat to trick out your Halloween celebrations. The label features a beautiful Day of the Dead mask but it is the wine inside that will have you convinced you had died and gone to wine heaven.
The label on the bottle sells itself well, with chocolate, vanilla, and cinnamon hints; as well as oak spice and dark fruits, but it is the bold Bing cherry flavors that will rock your wine pallet. Although cherry is not a flavor that I pursue, this wine is truly balanced with the warmer flavors. This wine would pair nicely with any meat or pasta dish.
In fact I am enjoying a glass by itself as I write.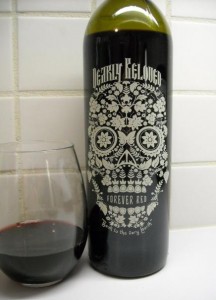 Now let's rewind. The label is what attracted me to this wine in the first place. If you like the ornate beauty of the Day of the Dead "Death Mask" this wine bottle is worth the purchase on that alone. But seriously don't waste the wine.
The wine was $6.99 at our Trader Joe's and worth every cent. I would recommend buying a bottle to have as your own adult treat after all of the candy has been passed out on Halloween.
Enjoy,