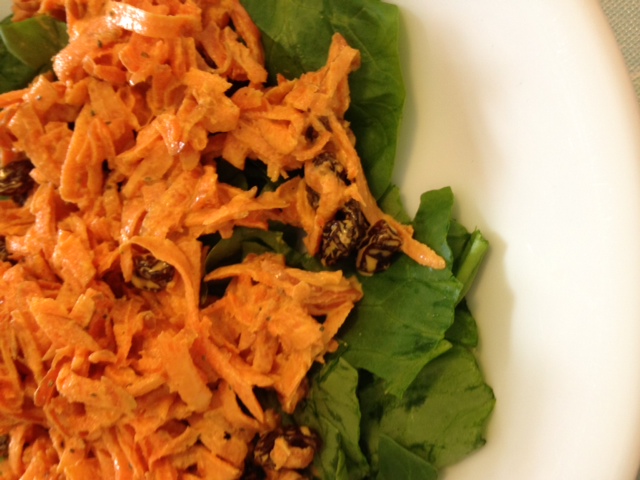 We got a craving recently for a childhood favorite: Carrot Raisin Salad.
Don't you love it when you can take a trip down memory lane simply by dining on a meal? Well, we were unloading our groceries the other day and noticed that we placed the bag of carrots right next to a bag of raisins. Hmmmm .. we both started to say, remember enjoying carrot raisin salad as a kid?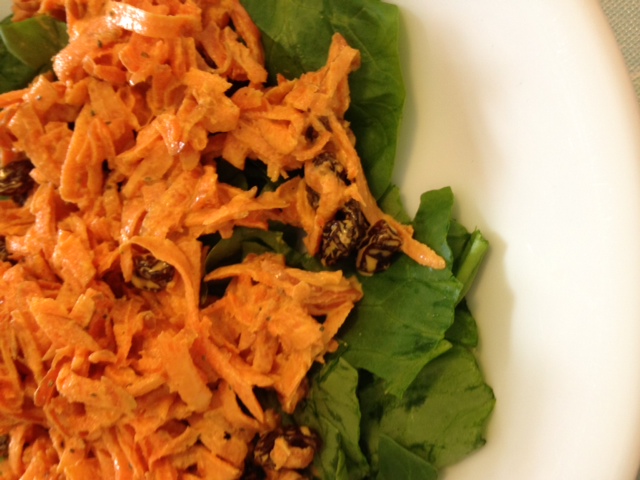 We decided to make some right away.
We also decided to keep it super easy and make homemade coleslaw dressing to use as the dressing for the salad as we both LOVE that easy and versatile dressing.
What we did: 
Grated up 1 lb of whole carrots

Tossed in about 1/2 cup raisins (maybe more…)

Tossed it with Easy Coleslaw Dressing
That was it! Super simple, right?
We enjoyed the salad right away on a bed of spinach. It was yummy. A nice mixture of an old friend and new tastes (in the form of the coleslaw dressing).
Luckily we had made enough carrot raisin salad to have it again the next day and this time we sprinkled the top with some sunflower seeds- which gave the salad a wonderful crunch and salty bit every now and then.
Do you love Carrot Raisin Salad? Try it and let us know what you think