Are you searching for Halloween Recipes that are easy to make and yet still tastes great? Well, check out this recipe,  an example from our new Ebook: Easy Halloween Recipes may be  just what you are looking for.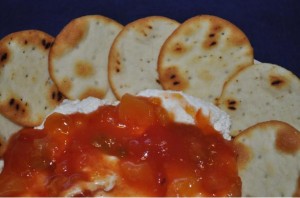 This recipe only has two main ingredients: Whipped Cream Cheese and Trader Joe's Smoky Peach Salsa (or your favorite salsa) and of course, crackers and bread for the scooping.  You will just love all the flavors in this dip: smoky, sweet, creamy and spicy all in the same bite. And the Color! This dip is just beautiful and will look great on your table for easy entertainment all fall….
1 8oz tub Trader Joe's Whipped Cream Cheese
1 Jar Trader Joe's Smoky Peach Salsa OR use your favorite salsa – a green salsa would look great on the table too (really like slime, right?)
Bread or crackers for serving (we used Trader Joe's Pita Chips!)
How To Make It:
1.On a serving dish with sides, scoop the soft cream cheese in to a circle in the center of the plate, about 1 inch think. Don't worry about smoothing it flat- it is better if the surface is uneven.
2.Spoon over the Smoky Peach Salsa until the top is coated and some salsa oozes down the sides of the cream cheese.
3.Serve with crackers or bread around the side.
We hope you just LOVE this dip as much as we did!
If you liked this recipe, and are looking for more Easy Halloween Recipes….