Do you like Spaghetti Squash? We like how easy it is to bake and the number of ways that you can serve it up. Why not try it for Meatless Monday?.
During our last few trips to Trader Joe's we have noticed a change at the store. It is Fall! There are cool assortments of Pumpkins and squashes both inside and outside the store. Not that you could tell from the weather at the beginning of the month (highs still in the 100's ) But now that we are 1/3 of the way into October, Tucson finally feels like fall has arrived.
We jumped at the chance to grab a nice spaghetti squash to have for Meatless Monday this week. We just love how easy these squashes cook up and how many different ways that you can eat the spaghetti like threads that are created after it cooks.
Here are some ideas for you:
Go Italian– Serve spaghetti squash tossed with your favorite tomato sauce (we are using Trader Joe's Tomato Basil Marinara) and a sprinkle of Parmesan cheese.
Italian Squash Casserole– Mix squash, pasta sauce in a bowl and pour into a well- greased casseroles type baking dish. Top with grated or sliced mozzarella or provolone cheese and heat until bubbly.
Pesto Italian– Add a few spoonfuls of olive oil and pesto to a bowl and mix together. Toss hot spaghetti squash strands around in the pesto with a fork until coated evenly. Season with salt and pepper and a few spoonfuls of parmesan cheese if you like.
Classic– Serve cooked spaghetti squash in the classic style, seasoned with salt and pepper and a pat or two of butter.
Cold- Toss cooked and cooled spaghetti squash with salad dressing and season well with salt and pepper. This is a nice and unusual element to add to a tossed salad.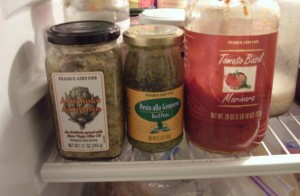 How do you like to serve spaghetti squash at your house? Leave us a comment below so we can compare recipes- THANKS!