The samples strike again at Trader Joe's! This time we tried the new Trader Joe's Gorditas. These are, as the box notes, pouches of corn masa filled with beans, cheese and chilies. For the sample they were heated up in the microwave and served on a plate with some salsa.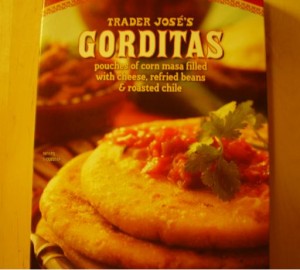 YUM! They were really good
They reminded us of one of our favorite foods: Pupusas! These are yummy little disks, resembling a stuffed corn tortilla. Pupusas are originally from El Salvador. We just love them! We have had them stuffed with all kinds of fillings from Chorizo to beans to cheese- or a mixture of everything.
After contemplating returning for a second sample…hehehe.. we bought a package instead and thought YES! these would be a great Meatless Monday type dinner. .
The directions said to heat in a microwave or in a pan on the stove…. Of course I only read that after I stuck two of them on a foil –lined pan and tossed them in the oven!  This was because I wanted some time to make tangy coleslaw to top the Gorditas with. This is how Pupusas are served, a golden cake filled with beans and cheese and topped with a vinegary cabbage salad.
The end result? A lovely, easy dinner with rich tasty Trader Joe's Gorditas and tangy crunchy coleslaw.
Have you tried Trader Joe's Gorditas yet? What did you think?