We picked up the most interesting, cool looking plant today at Trader Joe's. This was one of those busy days where we needed to bring something to a lunch meeting and just waited too long to decided what to make! So we solved this problem by leaving the house a bit early and shopping at Trader Joe's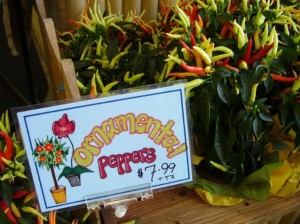 Not only were we able to pick up a tasty lunch (Delaina got a sushi sampler, and Kris got a turkey wrap) but we picked up some cookies to share with everyone and … this cool looking pepper plant to add some color to the office.
Neither Delaina nor I have anywhere close to a green thumb, but when we see awesome and unique plants like these, we feel compelled to purchase them as gifts for others. Besides a funky plant like this would certainly jazz up any office, don't ya think??
Anyway the plant was welcomed in the office by those with green thumbs (thank goodness!) and everyone seemed to enjoy it.
As you know from shopping at Trader Joe's they have such an array of blooming or funky plants as well as cut flowers, that it is a great place to stop in when you need some kind of a gift.
What are your favorite plants/ cut flowers at Trader Joe's (I think I am leaning right now to the huge sunflower blooms that I see…..) Leave a comment to let us know! THANKS!