Seccola Frizzante = YUM!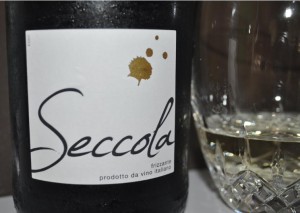 Hello Wine Drinkers;
I have another Wine Moment with Delaina for you. They were sampling the Seccola Frizzante  at our local Trader Joe's store in Kansas City today. It was very nice so I bought a bottle so I could share it with you.
This Semi-sparking German/Italian wine is very Prosecco'esk. This German made blend of two Italian grapes has a dry Granny Smith flavor that is very refreshing.
This wine pairs nicely with Trader Joe's Coconut Shrimp as well as Trader Joe's Indian dishes.  (Can you tell what we had for dinner tonight?)
I know many of you are looking for the Vola Trebbiano Pinot Grigio. This is not it and it has been too long since I have had the Vola Trebbiano to really compare them. Yet, from my memory I would say that the Seccola would make a good and bubbly void filler.
Also for those of you watching the alcohol levels on your wines, the Seccola is only 10% so you can enjoy your wine again without it being too sweet or having a "funny" flavor
I hope you enjoy this wine as much as I do.
Cheers,
Delaina
P.S. We brought home the Frequent Flyer and Viola! The Seccola Frizzante is mentioned on page 5! Who knew we were soooo trendy…
P.P.S. Do you like my super cool new stemless wine glasses? I just LOVE them! They are fancy and yet not too delicate ~ they recommend a hand wash but they feel solid and not too thin that I would be worried about using them EVERY NIGHT 🙂