We were poking around in the fish section at our Trader Joe's. We had to do this exploratory quest as once again Trader Joe's re-organized the area, and we can't find anything! OK what I really should say was that Trader Joe's has shuffled all the frozen items around, and now we are seeing all kinds of new stuff for the first time.
Which is exactly what happened!
We were searching for our usual salmon, but instead we discovered a whole package of Dover Sole! YUM! I love Sole as it is such a delicate/light fish.  So we bought the sole instead and had a fabulous couple of meals as a result.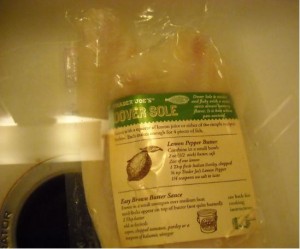 Dover Sole also cooks up super fast, so it is the perfect fish to  cook on a busy night. Here is what we did:
1. Thaw the fish (cool water in the sink)
2. Pre-heat your oven to 425~ nice and HOT.
3. On a foil-lined pan that is lightly oiled, arrange the fish in one level, brush with olive oil and sprinkle with salt and pepper.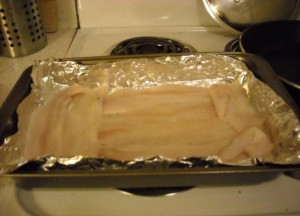 4. Roast in the oven for 5-10 minutes until fully cooked.
~ YES! Dover Sole is just that easy to cook!  You will love the sweet flavor of this fish and how fast it cooks in the oven.
Have you tried Trader Joe's Dover Sole? What did you think??