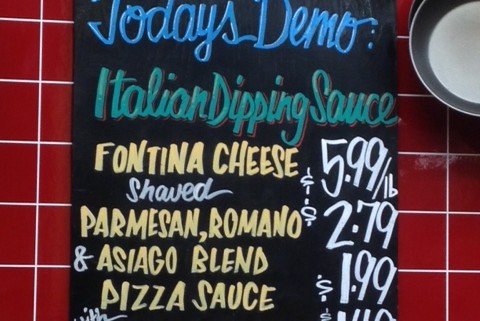 This was the sample last week at our Trader Joe's in Kansas City.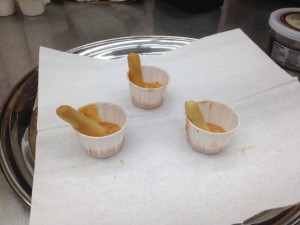 I wanted to share it with you because even thought it is a bit different, I found myself thinking about it a few times. This is basically a warm dip that you can serve in the crock pot with little bread sticks- or at least that is what they did at Trader Joe's.
It tastes just like a slice of cheese pizza!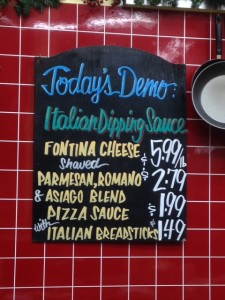 I was brainstorming how I might use this (it makes a LOT of dip) are a few ideas like a fun addition to a super bowl party as a hot dip (love those on these cold days) but I found myself thinking … what else could we do with this tasty dip ….hmmmm
So here is a short list of ideas that I thought up:
Pour over steamed veggies
Pour over hot baked potatoes
Use as a pizza sauce on any kind of flat bread (a tortilla, english muffin, Nan etc..)
Use as a hot dip for cold veggies (carrots & celery)
I am sure that there are plenty more fabulous  ideas out there- Please share yours in  the comments section at the bottom of the page.
So without further ado…here is the recipe:
Trader Joe's Cheese Pizza Dip
2 wedges of Trader Joe's Fontina Cheese (shredded up)
1 Pint Half & Half
1 jar of Trader Joe's Fat Free Pizza Sauce
1 Tub (8oz) Fresh shaved Parmesan /Asiago/ Romano cheese blend
In a crock pot, combine over medium heat (or start with high and then switch to low after everything is melted) the Fontana cheese and Half & Half until blended.
Next, add the pizza sauce and the tub of the Fresh Shaved Parmesan cheese and stir together until it is all combined.
Reduce heat to LOW to serve.
Use Trader Joe's Italian Bread sticks for dipping (that is what they used at the store) OR use what ever makes sense to you… get creative….
So YES I will be making this for my next party … I only hope I can last until the Superbowl!