Wine Moment with Delaina
Hello Fellow Trader Joe's Fans
It has been awhile so I thought I better give you another wine review. We were in our local Trader Joe's buying splurges for the Super Bowl; and being a sucker for Zinfandels and things placed on end caps I could not resist tying this "new-to-me" Zin.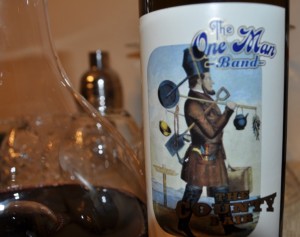 The Zinfandel is out of Sonoma County bottled by The County Fair Wines, titled The One Man Band 2010 and it is zin-fully delicious. Best part it was priced at $8.99.
The most dominate flavor to me was the blackberry but the vanilla rounds out the finish very nicely. There is also a peppery hint that adds a little punch to this highly berry flavored wine. Like many Zins it is a bit on the dry side but all of the berry flavors balance the wine nicely.
It turns out that Trader Joe's featured this wine in their Fearless Flyer so if you would like a more details and sophisticated plate evaluation of this wonderful Zin check out what the experts have to say here: http://www.traderjoes.com/fearless-flyer/article.asp?article_id=469 .
It paired nicely with roasted chicken, asparagus, and sweet potatoes. (All purchased from Trader Joe's of course.)
This wine would pair nicely with many entrees and hardly salads or hors d'oeuvres such as smoked gouda cheese. Yes…it is true I think smoked gouda goes with everything, just as I think Zinfandels go with everything.
I hope you enjoy this wine as much as I did.
Thank you for reading.
Cheers,